Black Friday Customer Retention Tips
---
In this final blog of our 2021 Black Friday series, we'll be talking you through our advice for retaining customers after the big event. After all, it would be a waste of all of your marketing efforts, to let new customers slip away again! It's important that your customers return to you, and develop loyalty to your brand- Ultimately making regular or repeat purchases.
Here are our 5 top tips for retaining customers on Black Friday 2021...
1. Run a relevant loyalty scheme
One of the most obvious initiatives to build customer loyalty, is to run a loyalty scheme. These can work in different ways, here are some examples:

Waitrose customers with a MyWaitrose card gain access to benefits such as special offers, a free hot drink and a free newspaper when they shop.

Boots have a points system where customers gain 3 points per £1 that they spend, and for every 100 points a customer gains, they receive £1 of credit to spend in store.

Nandos offer a loyalty scheme where you can gain free food by collecting a 'Chilli' each time that you visit.
There are a number of ways that you can entice customers to come back, and it's crucial to think outside of the box, but most importantly, that you listen to the needs of your target market. You could offer a fantastic points system, but if it's not what your customers want, then it wont work. So, make sure to tailor any loyalty schemes to your customers! A one-size fits all approach isn't always an effective option.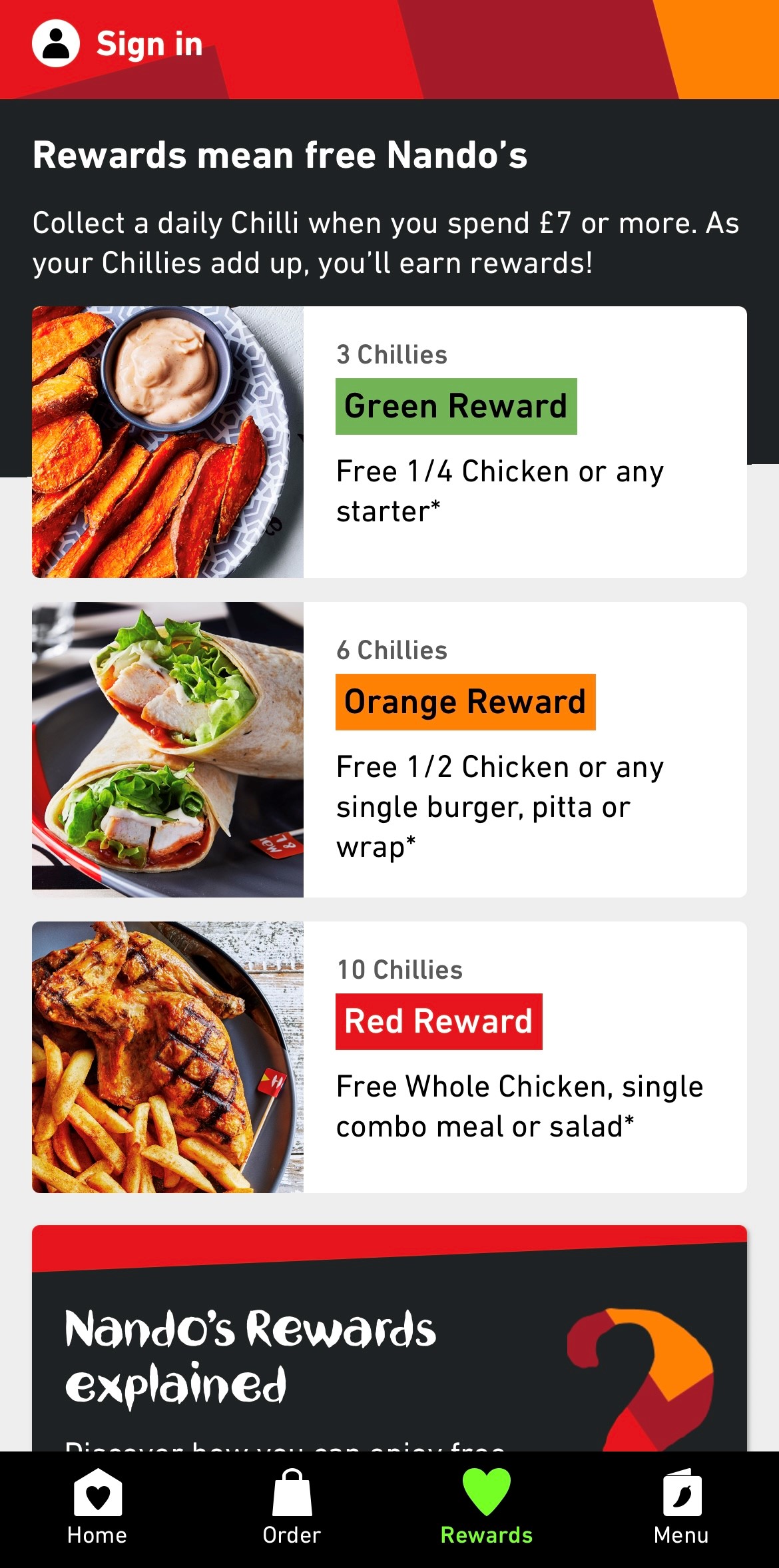 2. Sign visitors up to a mailing list
At checkout, encourage customers to fill in their email address, or create an account. This allows them to be re-contacted in the future with marketing materials and email campaigns, to entice them back to your business. You can also encourage sign ups via a pop up on your website or a chance to be entered into a prize draw, for example.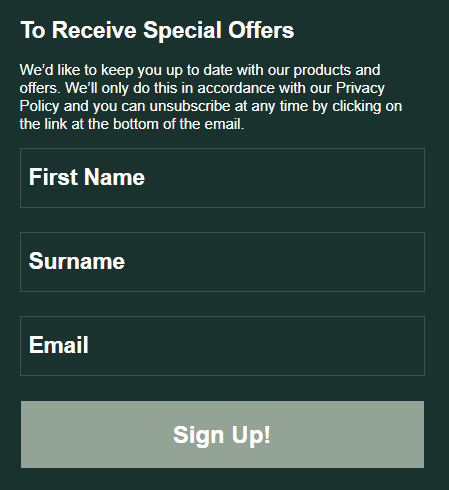 3. Give an incentive to return
Why not follow up with a voucher for the next time that the customer visits? Or, perhaps offer the opportunity to make an exchange. For example, a perfume brand may package their product in a stunning glass bottle. Perhaps, the perfume brand could entice the customer back by giving them a half price refill or gift voucher on the return of their empty bottle.

Here is an example of an incentive to return by Club London, who offered 20% off on a future purchase.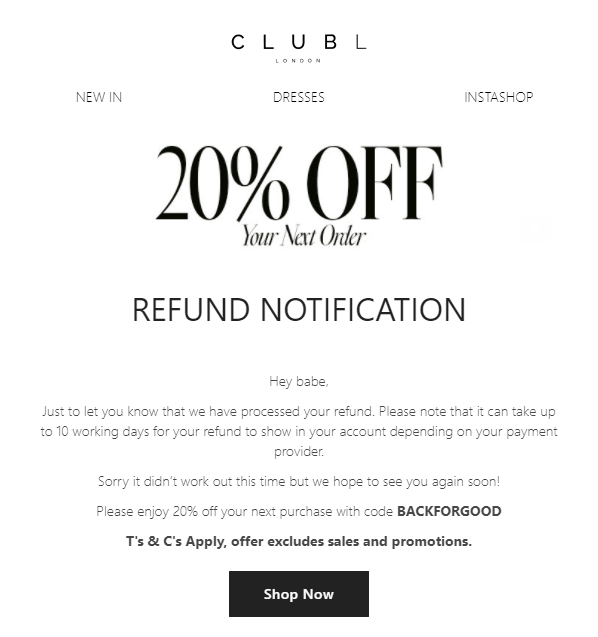 4. Hook them in
A fantastic example of this would be McDonald's Monopoly. You visit once and collect stickers, then find that you are one sticker away from collecting a prize. So, you feel hooked in to return again and collect more stickers, in hope of qualifying for a prize. On your second visit, you might not gain the property that you need, but you could get an instant win for a food item. So, you return yet again. This is a really effective approach which your business can take inspiration from! How about, a special code with every purchase over £20, which can be scanned for a new prize/offer on their next visit?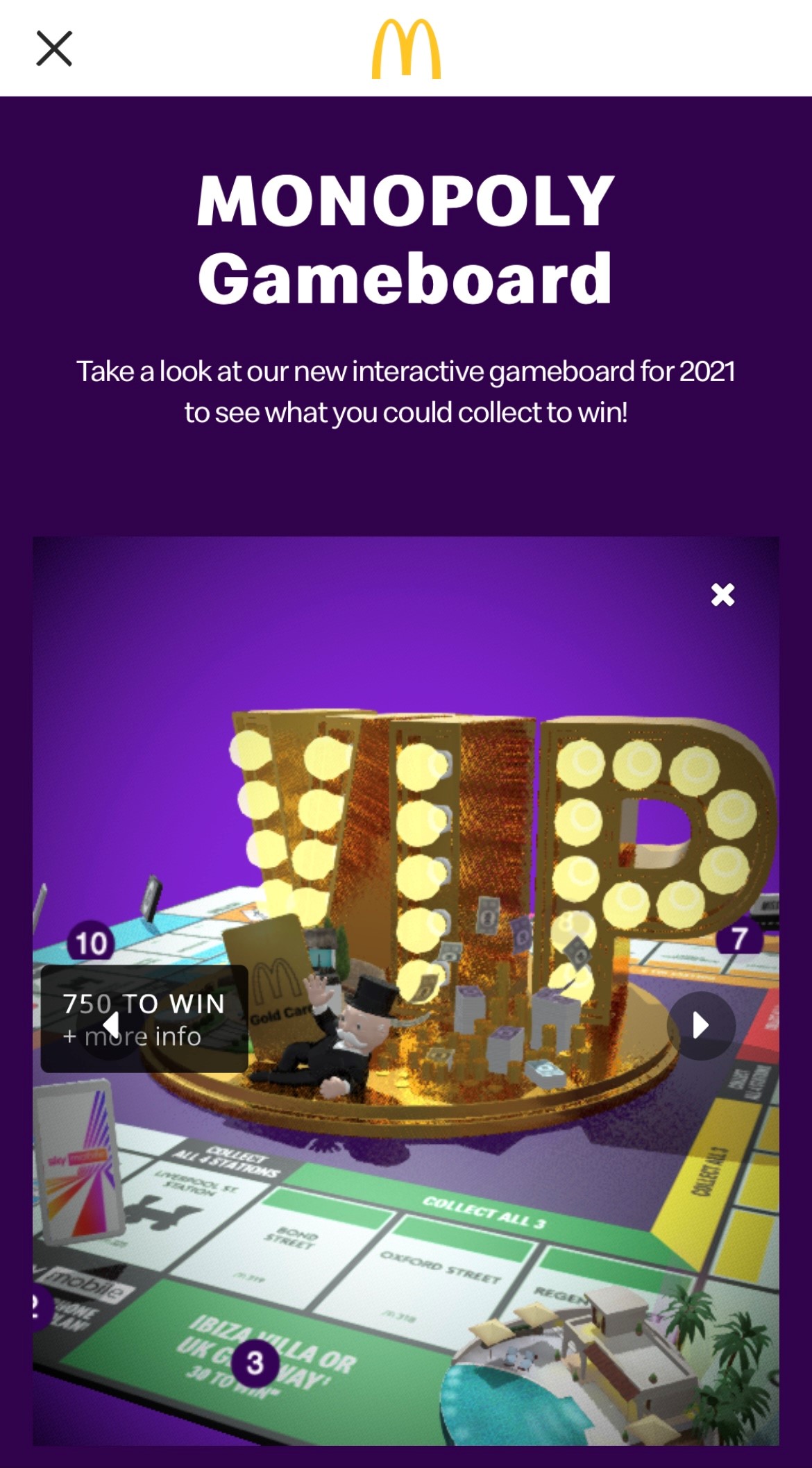 5. And, arguably most important… Show yourselves in the best light!
If your customer has a bad experience with you, it could put them off from ever returning. So, offer the best service possible both in-store and online. Your processes should be easy, your website should be fast with excellent functionality, and your front-facing staff should serve with a smile!

To get started with a high quality, secure, fully functioning website, then you'll need our help! Our Lincoln website developers have been creating bespoke websites for over 21 years, for a wide range of clients and industries. If you're interested about finding out what we can do for you and your business, then get in touch today! Or, for digital marketing support, click here.